FREE Robotic Process Automation Training
(Worth £1699+vat)
Learn to identify processes suitable for robotic automation and how to implement them within your business.
Includes FREE 1 day, on-site use of a robot arm for training and initial concept evaluation.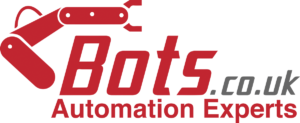 We have teamed up with the Black Country Innovative Manufacturing Organisation (BCIMO) to provide FREE training on how to analyse, identify and implement cost-saving robotic solutions within your business.
Training is provided within your own business environment and comes complete with the FREE use of a high-end robotic arm for a day to evaluate one initial concept identified in the training.
The training is provided by one of our experienced process automation engineers and a certificate of completion is issued to all employees to successfully go through the training.
No experience is necessary to take part, although it is recommended for individuals familiar with the process you are considering automating.
Pick & Place
Inject Moulding
Painting
CNC Operation
Assembly
Pack & Palletize
To be considered for this training simply follow these steps:
Ensure you meet the requirements below
Take a video of the process(es) you think would benefit you most from automation
Complete the details in the form below
Attach your video(s) to the form where indicated
Submit your details
Requirements
Your business must be based in, or on the borders of, the metropolitan boroughs of Dudley, Sandwell, Walsall or in the City of Wolverhampton.
Your business must have less than 250 employees and under £50m turnover per annum.
Companies not meeting these criteria can still access the programme but will be charged at BCIMO's standard rate.
Our two-day training course gives insight into all aspects of using a collaborative robot.
✓ 2 days of FREE training for up to 3 people (6 hours each day)
✓ Learn how to identify the processes that would benefit most from automation
✓ Learn the steps needed to evaluate the robot for use within these processes
✓ Learn the basics of how to program a robot
✓ Learn how to interact with external machines with cobots
✓ Health & Safety using cobots
✓ Set and deliver simple tasks using the robot

✓

 Get to see the steps taken to set up and test the use case of using one of our high-end robot arms directly on your premises

✓

 Certificate of completion issued to each employee completing the 2-day course
About BCIMO
The Black Country Innovative Manufacturing Organisation (BCIMO) is a not-for-profit Research and Technology Organisation (RTO) established to oversee the delivery, launch and operation of the Very Light Rail National Innovation Centre (VLRNIC).
About Bots.co.uk
Based in Halesowen, Bots.co.uk specialise in Cobots and Autonomous Industrial Robots. We do not have affiliates with any company, meaning we can offer you the right robot for the right job.
We distribute Universal Robots, Franka Emika, Kassow as well as ABB Yumi and MIR.
As well as providing this on-site training, we have a full showroom and demo area where we can show you the robots in operation and discuss the process you would like to automate.
What are cobots?
Cobots, or 'collaborative robots', are robots that are designed to collaborate with people. Traditional robots used in industrial processes and other settings are essentially automatons.
They are designed to do either a single or a small range of tasks over and over again with little oversight required by humans. They will typically be in a separate area, caged or fenced away for safety.
Cobots are generally more mobile. They may be equipped with a range of sensors that allow them to navigate a workspace and could perform a number of tasks, including but certainly not limited to delivering packages or components, recording and delivering messages or providing remote communications such as webcam between human parties.
Some companies might maintain their own cobot workforce but robot hire is also a possibility. They may also be able to interact with human workers via a number of different methods, from voice commands to task management software and programmes.
Again, skilled human operatives will often be required to give these collaborative robots their instructions, as well as designing and building them in the first place. A certain level of training and qualifications might also be required in order to work safely and effectively alongside these cobots.
Automation has already started to change the working landscape and there's little doubt that it is set to have a much bigger impact in the future. By getting the right robotics education and training now, you can be in a great position to benefit from these changes as and when they occur cobot solutions.
Have a question about this training before applying? Fill out the form below and we'll get back to you!