The Sanding Kit application automates sanding tasks to increase both quality and productivity. The first complete cobot sanding solution, it is ideal for use on a range of different materials including wood, plastic, metal, fibreglass, solid surfaces and carbon fibre.
Normal sanding applications require many hardware and software components; integration can normally take months. But not anymore! The Sanding kit is the only hardware and software all-in-one solution for robots.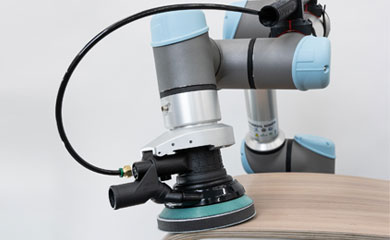 Reduce programming time from hours to minutes
Automate sanding tasks easily
The only hardware and software sanding solution for Universal Robots
Increase quality and productivity
Reduce worker injuries
Click to Read More about Robot/Cobot
Click to Learn About Robot/Cobot Hire in the UK.