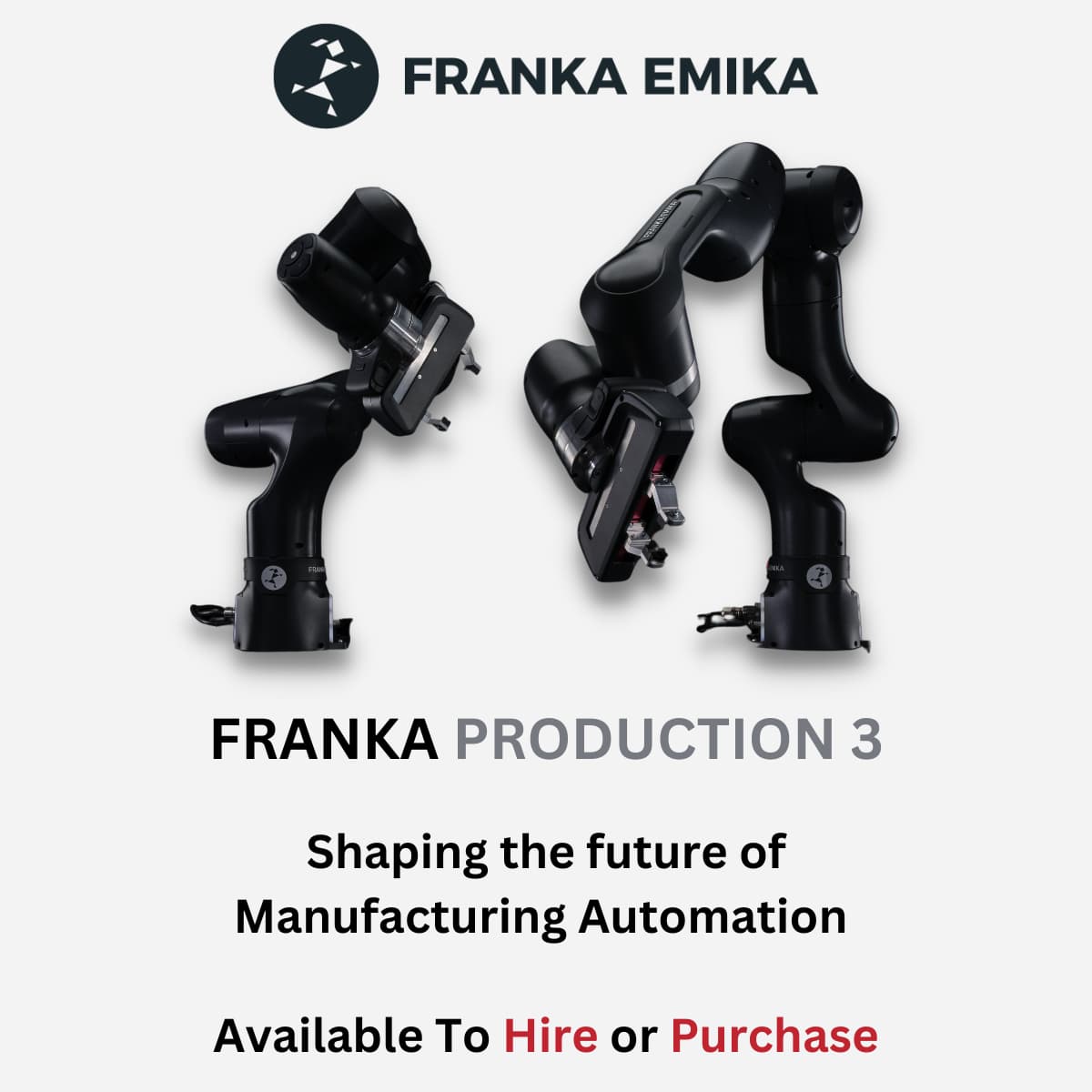 Ignite Your Automation & Productivity
Designed, developed and manufactured in Germany using mechanical and engineering competence combined with innovative software and platform expertise, the Franka Production 3 is ready to ignite productivity for anyone and everyone who needs industrial robotics automation across the globe.
About Franka Production 3
The FP3 boasts an impressive level of dexterity, rivaling that of a human arm. It is equipped with a complex system of over 100 sensors, including cutting-edge torque sensors in all 7 axes, designed in-house by Franka Emika and considered among the best in the industry.
These sensors enable the robot to perform tasks that require delicate manipulation and force-based applications with exceptional accuracy. As a result, the robot is highly regarded for its ability to mimic human-like movements and perform tasks that were previously only possible for humans.
RADIUS
855 mm / 33.66 ins
PAYLOAD
3 kg / 6.61387 lbs
Purpose
Aerospace

Automotive

Catering

Electronics

Packaging

Machine Tooling
Functions
Automate tasks up to 3kg

Assembly

Bin Picking

Loading & Unloading

Painting

Pick & Place
Features
Torque sensors on all 7 axes

Pose repeatability of < +/- 0.1 mm (ISO 9283) mm

Ethernet (TCP/IP) for internet and/or shop-floor connection

Control via easy to use web-based interface from a computer, laptop or tablet

Effortless, smooth hand-guiding, position logging and interaction
Benefits
Easy to program

Sensitive Insertion

Repeatability

Collision vs Interaction

Unique Sensitivity

Health & Safety compliant
Buy Franka Emika Production 3 Robot Arm
From £25,999+vat
Hire Franka Emika Production 3 Robot Arm
From £65+vat per day
Franka Production 3 Specification
Degrees of freedom
7 rotating joints
Technical Build Of Franka Production 3
Weight (with cable)
~17.8 kg
Ambient Temperature
5-45°C
Power Consumption
Average ~ 80W
Supply Voltage
100V – 240V AC
Brochure & Technical Specifications

For more details of the Franka Emika Production 3 Price, Applications, Availability and more, simply enquire below: