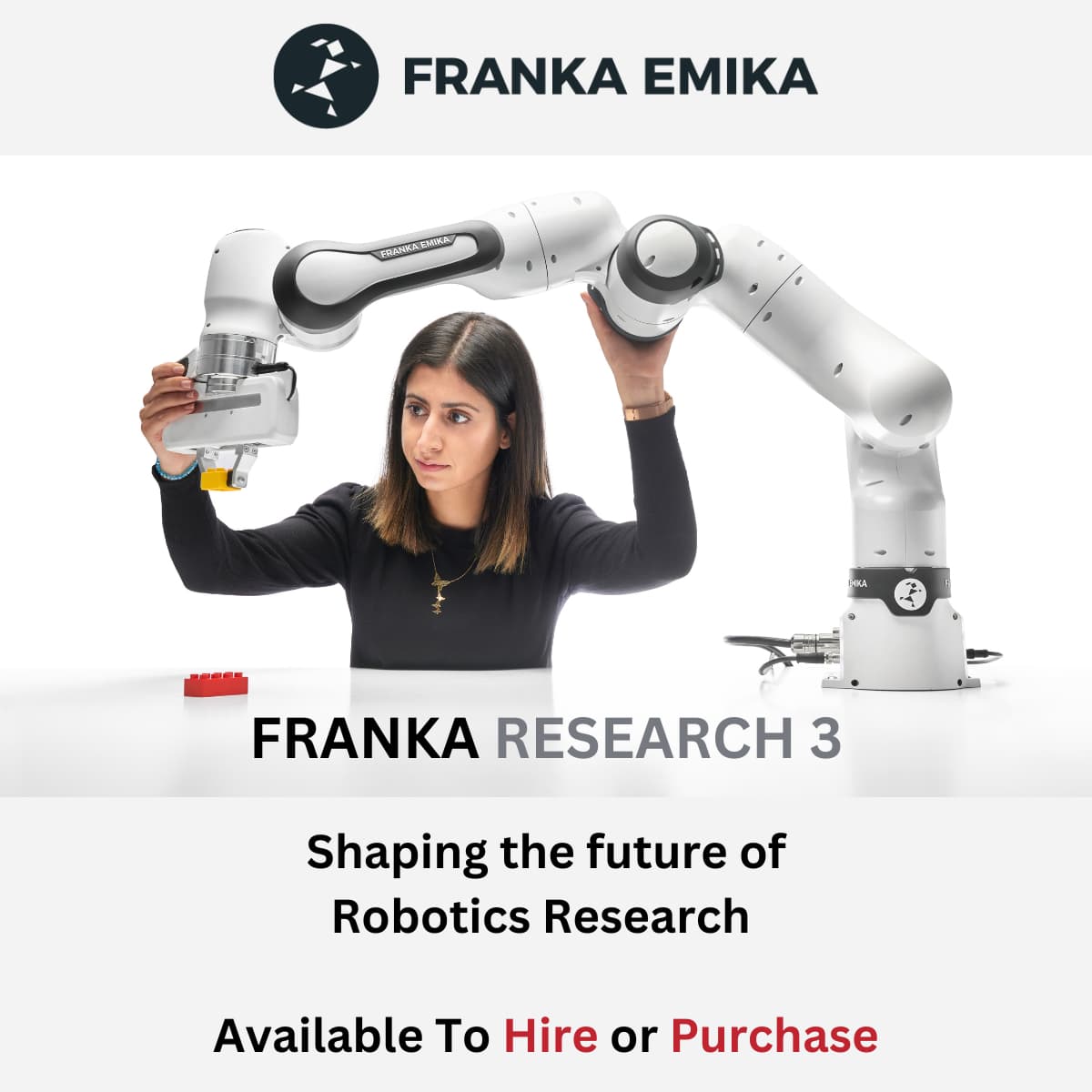 Empowering Robotic Research
Designed, developed and manufactured in Germany using mechanical and engineering competence combined with innovative software and platform expertise, the Franka Research 3 is ready to ignite the creative and analytical minds of anyone and everyone involved in robotics research across the globe.
About Franka Research 3
The FR3 boasts an impressive level of dexterity, rivaling that of a human arm. It is equipped with a complex system of over 100 sensors, including cutting-edge torque sensors in all 7 axes, designed in-house by Franka Emika and considered among the best in the industry.
These sensors enable the robot to perform tasks that require delicate manipulation and force-based applications with exceptional accuracy. As a result, the robot is highly regarded for its ability to mimic human-like movements and perform tasks that were previously only possible for humans.
RADIUS
855 mm / 33.66 ins
PAYLOAD
3 kg / 6.61387 lbs
Research
Aerospace

Automotive

Catering

Electronics

Packaging

Machine Tooling

Medical
Functions
7 axes with torque sensors on each

FCI Control Interface

Desk browser based UI with drag/drop apps

Watchman safety systems protecting students & staff

Community resources for project collaboration & resource sharing
Features
Torque sensors on all 7 axes

Pose repeatability of < +/- 0.1 mm (ISO 9283) mm

Ethernet (TCP/IP) for internet and/or shop-floor connection

Control via easy to use web-based interface from a computer, laptop or tablet

Effortless, smooth hand-guiding, position logging and interaction
Benefits
Easy to program

Sensitive Insertion

Repeatability

Collision vs Interaction

Unique Sensitivity

Health & Safety compliant
Robot System
Franka Research 3´s robot system includes the Arm and its Control. The force-sensitive agile Arm features 7 DOF with torque sensors at each joint, industrial-grade pose repeatability of +/- 0.1 mm, and negligible path deviation even at high velocities. It comes with a 3kg payload, a reach of 855 mm, and a workspace coverage of 94.5%
DESK
Desk is the browser-based user interface that offers quick robot control options, and where Apps can be dragged and dropped into a sequence to create entire tasks in no ti me. Ideal for rapid prototyping of robot behaviors, setup of experiments, simple human-robot interaction studies and demos.
FCI (Franka Control Interface)
FCI is the ideal interface to explore low-level programming and control schemes, providing the current status of the robot and enabling its direct torque control, at 1 kHz. On top of the C++ interface libfranka, integrati on with the most popular ecosystems ROS, ROS2 and MATLAB & Simulink is available!
Resources and Community
An open and global research ecosystem enabled by a powerful robotics platf orm for quicker time to results and publishing. Franka Research 3 is the reference platform to integrate existing research, share breakthroughs and collaborate on projects, replicate studies, and promote papers within the community
Buy Franka Emika Research 3 Robot Arm
From £25,999+vat
Hire Franka Emika Research 3 Robot Arm
From £65+vat per day
For more details of Franka Research 3 Price, Applications, Availability and more, simply enquire below: