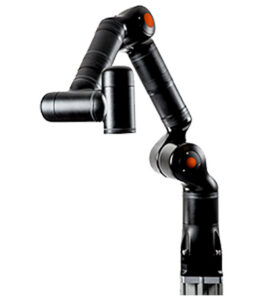 Able to perform tasks and motions that human arm would achieve, Bots.co.uk, part of Warrington Robotics Ltd in Halesowen, West Midlands launches their new robot rental service, one of the first of its kind in the UK. Aimed at both industrial and commercial businesses, the robots available to hire include collaborative industrial robotic arms and commercial humanoid robots.
Collaborative robotic arms are ideally suited to industrial environments such as factories and capable of performing a large range tasks that can easily be automated, from picking and placing, to operating a screwdriver, to gluing and more.
The robotic arms are programmed to perform repetitive tasks and motions that a human arm would achieve, without the risk of repetitive injury strain. This can result in safer and happier employees, who can now engage with alternative and more enjoyable tasks within the workplace.
Bots rental service encourages humans and robots to work together to improve workforce productivity. The robots can provide non-stop unlimited labour around the clock, programmed and aided by surrounding employees. Employees can work safely alongside the collaborative robots with minimal safety restrictions. They can be approached and manipulated, and even detect unexpected interferences making them extremely safe to implement.
Bots.co.uk deploys all robots, performs maintenance, and makes it easy for businesses that don't know how to operate the machines.
Tim Warrington, CEO at Bots.co.uk says;
"As the demand for this technology grows, we're supporting many of our customers in the West Midlands and beyond who are new to using robots. We are able to advise the most suitable way to implement the robot into the business, and we even offer training and programming upon delivery. Most clients will start out with one robot, to see how it goes, usually before hiring multiple numbers. Robot rental is already popular in the US by businesses such as Hirebotics, but is not something that has been seen in the UK before."
Hire starts from only £65 per day plus training and delivery, making it incredibly easy for businesses to experience the advantages of robots within their workplace, without a hefty upfront investment cost, which could usually be in excess of £100k.
For more details of the latest news and industry updates check out the other posts on our industrial robotics and cobot blog.