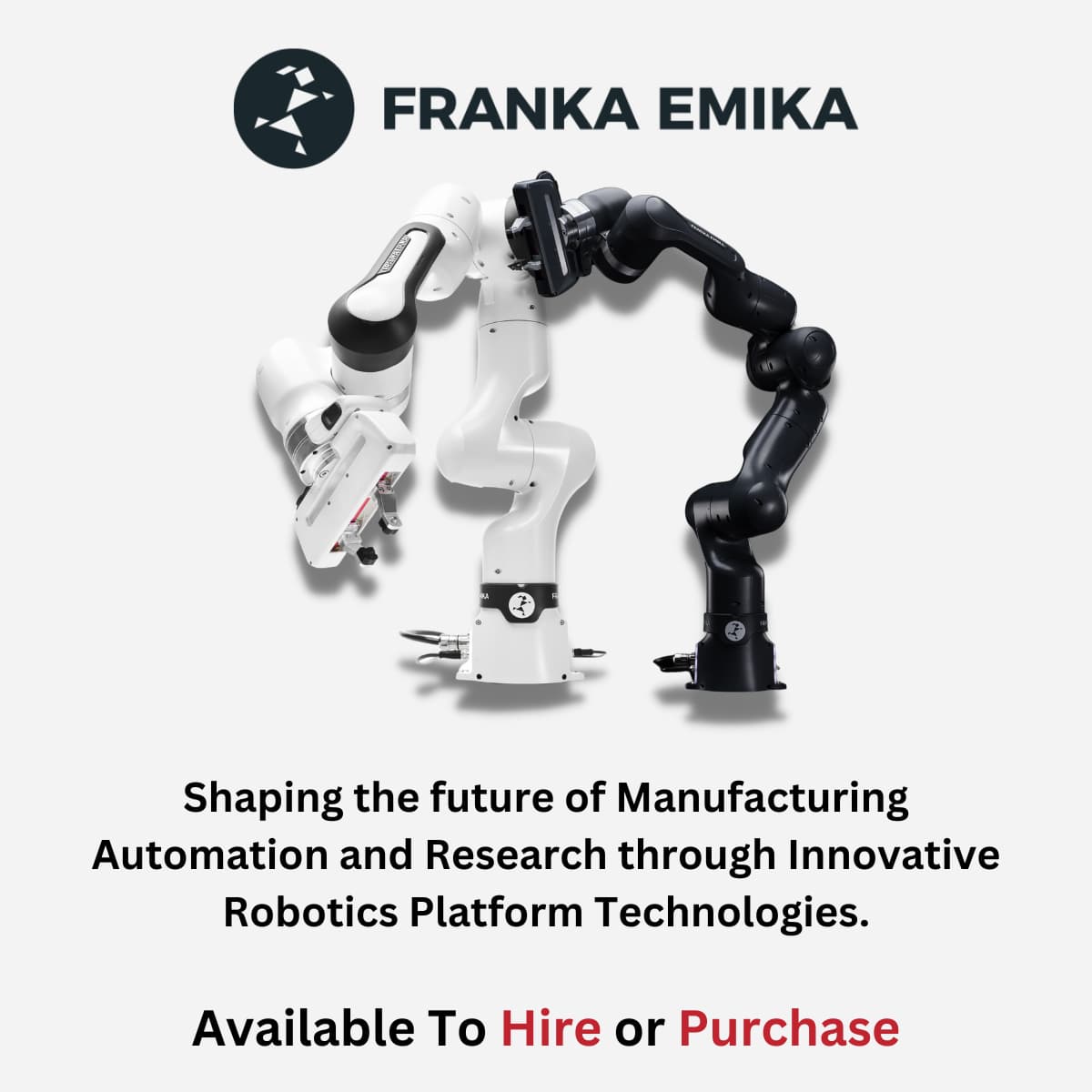 Franka Production 3
Ignite Your Automation & Productivity
Designed, developed and manufactured in Germany using mechanical and engineering competence combined with innovative software and platform expertise, the Franka Production 3 is ready to ignite productivity for anyone and everyone who needs industrial robotics automation across the globe.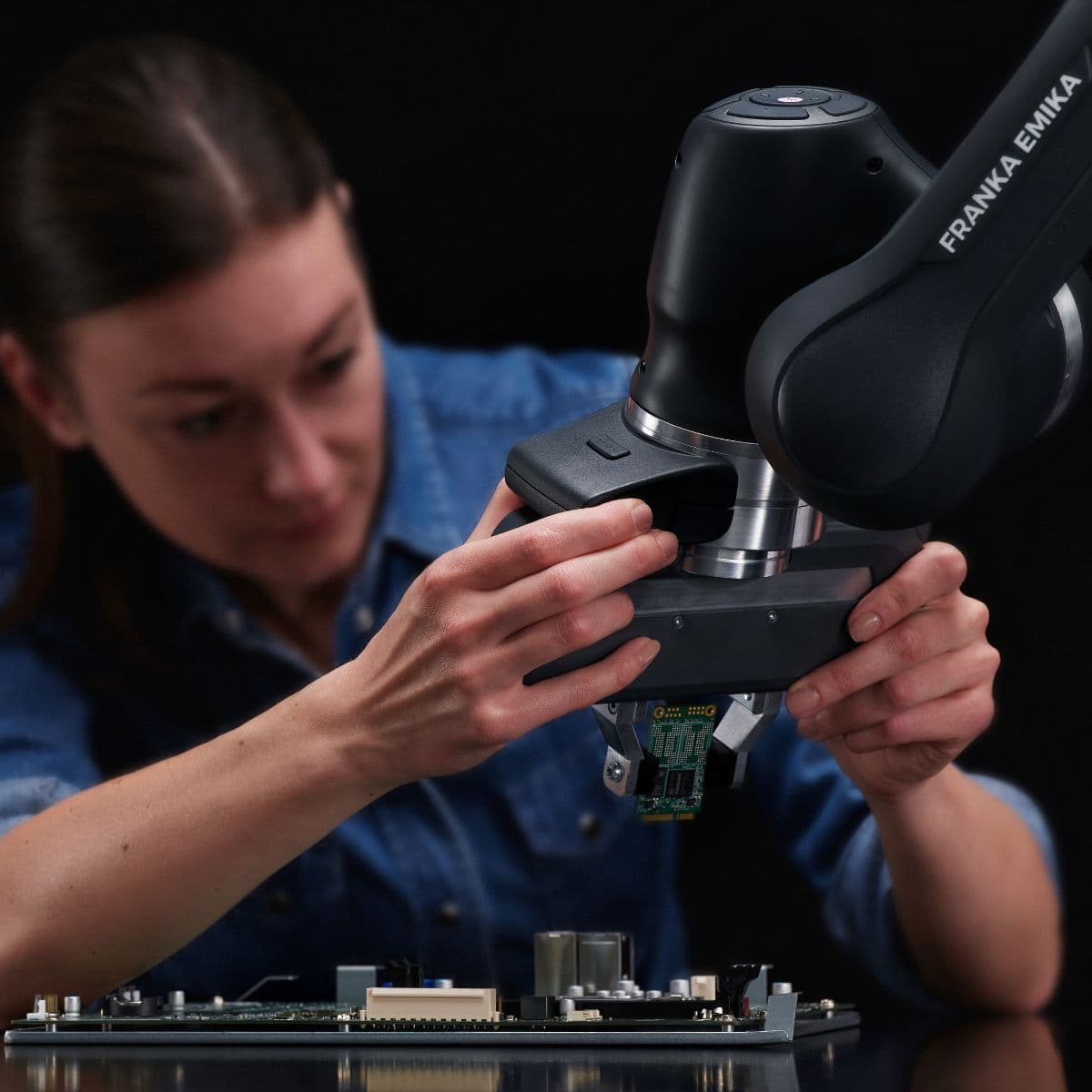 Franka Research 3
Empowering Real World Robotic Research
A high-performance toolset, including the Franka Control Interface (FCI) for the whole spectrum of robotics research. Franka Research 3 is the ideal platform to conduct research on and test e.g. control and motion algorithms, grasping strategies, interaction scenarios and machine learning.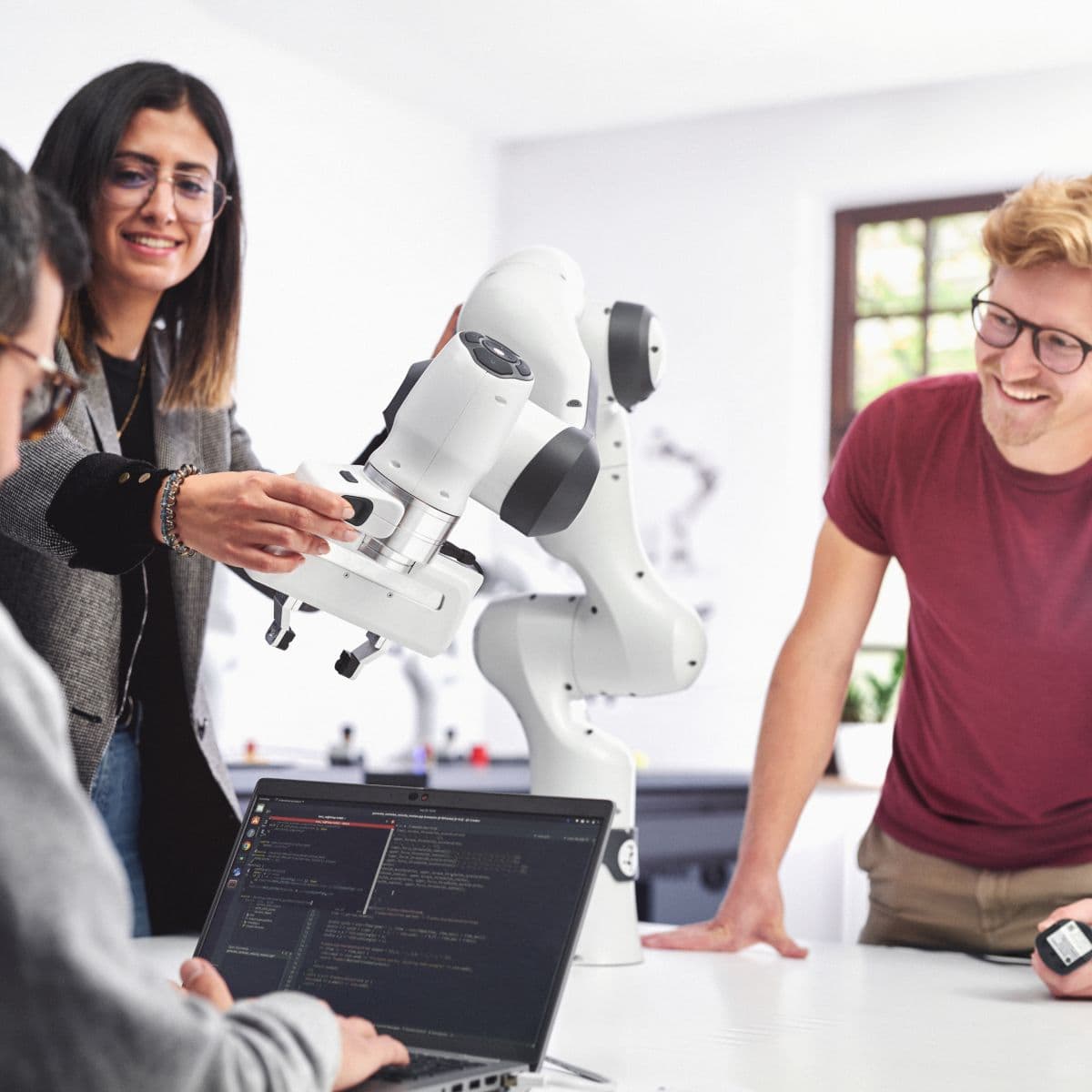 Franka Emika Robot Arms (Cobots)
Franka Emika robot arms are the next-generation collaborative robot (cobot) systems designed specifically to assist humans. The complete modularity, ultra-lightweight construction, highly integrated mechatronic design, sensitive torque sensors in all joints, and human-like kinematics, make the systems unique.
Based on the "soft robotics control", inspired by human beings, the Franka Emika cobots, original known as the Franka Panda, and now developed into the latest Production 3 and Research 3 models, are able to recognize and process even the slightest touch by using its artificial reflex system to react within milliseconds.
PAYLOAD
3 kg / 6.61387 lbs
WEIGHT
18,4 kg / 40.6 lbs
New Production 3 Robot Arms
Unique characteristics of the lightweight Franka Emika robot arm system designed to accomplish most delicate tasks accurately. Architected, designed and developed by Franka Emika GmbH in Munich and produced in Germany.
Purpose
Aerospace

Automotive

Catering

Electronics

Packaging

Machine Tooling
Features
Automate tasks up to 3kg

Assembly

Bin Picking

Loading & Unloading

Packaging

Painting

Pick & Place
Functions
Automate tasks up to 3kg

7 axes points with gripper

CNC Machinery

PackagingPainting

Injection Molding

Screwing

Pick & Place
Benefits
Easy to program

Sensitive Insertion

Repeatability

Collision vs Interaction

Unique Sensitivity

Health & Safety compliant
About Franka Emika
Franka Emika is a Munich-based robotics company founded in 2016 by Sami Haddadin and his brother Simon, together with a long-standing team of robotics experts pioneers. Since its inception, the company has grown steadily and now has 200 employees.
Franka Emika is a pioneer in robotics with a human sense of touch, considered one of the most important German inventions of the last 140 years, has a unique dexterity similar to the human arm, is agile and safe. The company produces its robots in Germany and offers unique intelligent software that is easy to use thanks to its intuitive robot app framework.
The FRANKA World online platform connects customers, partners, developers and robots. It provides centralized management and remote control of Franka Emika robots, as well as access to a growing ecosystem of accredited software and hardware
Buy Franka Emika Robot
From £25,999+vat
Hire Franka Emika Robot
From £65+vat per day
For more details of Franka Emika Robot prices, applications, availability and more simply enquire below: