3D Bin Picker – ACCUPICK 3D – Official UK Distributor
3D Bing Picking For Cobots
The task of creating a bin picking cobot (collaborative robot) has been one of the most challenging tasks posed to robot and cobot engineers, designers and programmers. While cobots which tend machines, or help to move objects from one defined location to another are a common sight in industrial settings across the world, bin picking cobots up until recently have only been a thing of imagination.

What is a bin picking cobot?
Automatic bin picking has been one of the most long-desired applications of a cobot, yet it has proved to be one of the most elusive. Simply put, a bin picker (whether human or robotic) picks up items from a bin containing multiple items of different types. Human bin pickers are easily able to distinguish between different kinds of screws, bolts or nuts, whereas a traditional cobot would not. This has meant that human bin pickers still have to be employed to conduct repetitive and dull jobs, even when their time and skills could be better utilised elsewhere.
A 3D bin picking cobot can grab items which are loosely contained in a bin. They are even able to differentiate between colours and sizes through the use of advanced cameras and sensors.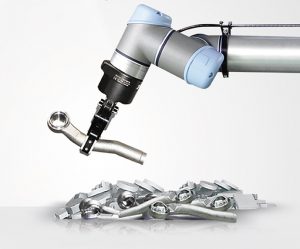 What is the Soloman AccuPick 3D?
The Accupick 3D from Solomon can pick and place a variety of objects from a bin, thereby reducing the amount of time and energy human workers have to spend completing menial or repetitive tasks. The AccuPick 3D works with 16 major robot brands to transform the learning capacity of current cobots. There is no need for CAD files or complicated programming with the new 3D bin picker. Users will only need to input several images of the objects to be picked, and the machine will intuitively learn to recognise them.
Benefits of a 3D bin picking cobot
The Solomon system AccuPick 3D requires minimal software and training and does not require use with any specific robot or cobot brand, as it can be used in conjunction with products from 16 major robot brands. The flexibility of the revolutionary AccuPick 3D means that it is open for a wide range of uses and industries.

How does it work?
The AccuPick combines a robot arm with cameras, laser scanners and 3D sensors to allow the automated bin picker to quickly and easily identify the object that needs to be moved. The AccuPick 3D comes with 2.3mp camera, scanning at 0.2 seconds per image. The fast scanning capabilities of this transformative new product will soon become invaluable to factories, warehouses and industrial units throughout the entire world.
Camera Res
Upton 2590 x 2048
Field Of View
310 x 269 ~ 1202 x 1120 mm
Scanning Time
Minimum 0.3-0.8seconds
Click to Learn About Robot/Cobot Hire in the UK.