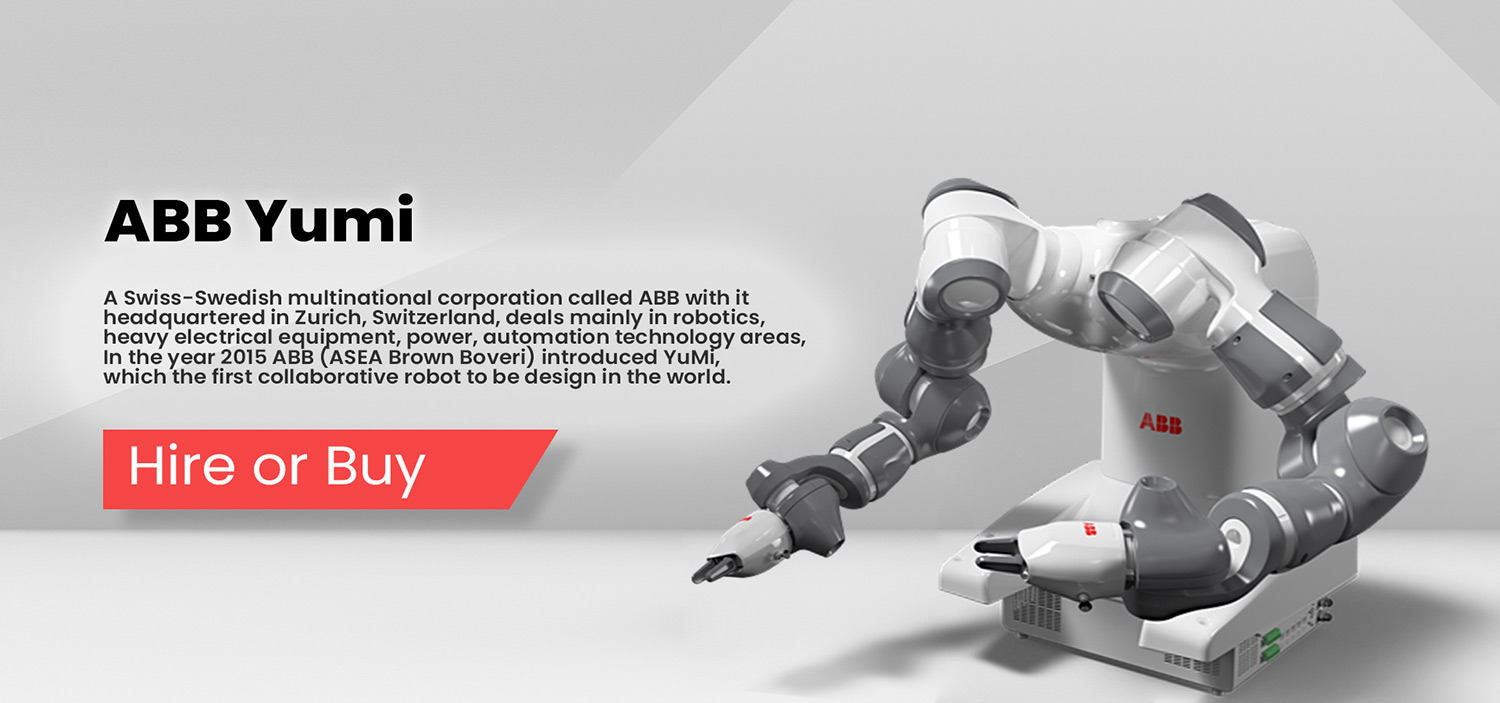 ABB Robotics UK Yumi Robot
YuMi® from ABB Robotics
ABB has developed a collaborative, dual arm, small parts assembly robot solution that includes flexible hands, parts feeding systems, camera-based part location and state-of-the-art robot control.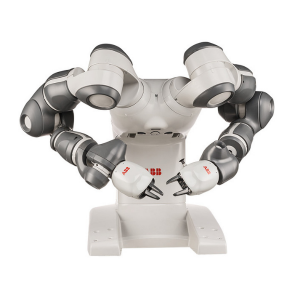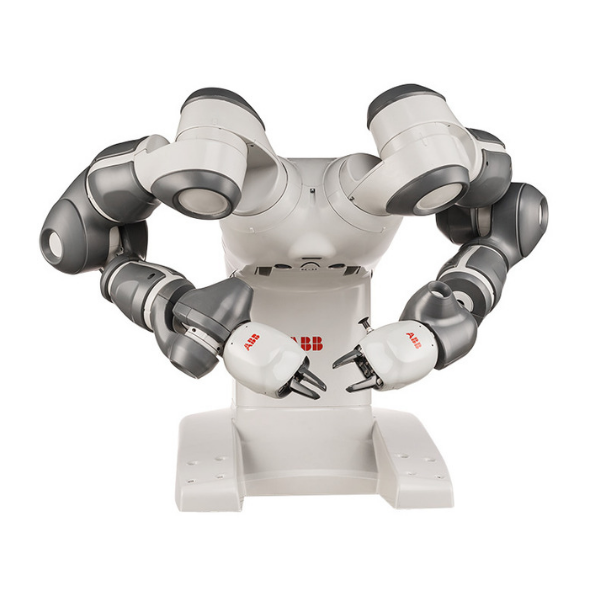 Technical Description
The ABB Robotics YuMi® robotic system is a collaborative, dual-arm Small Parts Assembly robot that includes flexible hands, parts feeding systems, camera-based part location and state-of-the-art robot control. It can collaborate, side-by-side, with humans in a normal manufacturing environment enabling companies to get the best out of both humans and robots, together. One of YuMi®'s unique features is its "inherently safe" design, allowing it to work alongside humans while reducing risks to acceptable safety levels.
Purpose
Aerospace

Automotive

Catering

Electronics

Packaging

Machine Tooling
Features
Automate tasks up to 0.5kg

Small PartsAssembly

3C / Electronics

Bin Picking

Loading & Unloading

Packaging

Painting

Pick & Place
Functions
Automate tasks up to 5kg

Assembly

CNC Machinery

PackagingPainting

Injection Molding

Screwing

Pick & Place
Benefits
Easy to program

Reliable

Health compliant

Safety compliant
[contact-form-7 id="2157″]
Hire ABB Robotics YuMi® from £2800 + Vat per month
Delivery | Set-Up | Training | Pre-Programming
Yumi ABB Robot
Is your business ready for the age of robots? If you're not sure whether committing to a bot is a good idea or not, then rent a robot is the perfect solution. You wouldn't give a contract to a new human employee without getting a feel for them first, and the same is true here. Hiring a bot, with no long-term commitment, allows you to test the waters and decide if it's right for your business.
The YuMi ABB Robot, now available for short-term hire, is designed to work in harmony with its human colleagues. This is an example of a collaborative robot, which can be used flexibly in situations such as assembly lines. Here, in an environment where automation is key, the YuMi model's capacity for endless repetition can make it a great addition to the workplace.
This robot features flexible hands, a camera-based part location tool, and parts feeding systems. It is extremely deft, allowing it to get to grips with even small pieces, and can be controlled with high-level accuracy for total precision at work.
There are several major benefits to incorporating a bot like the YuMi into your business. This robot has been designed with safety in mind, which can help reduce the chances of accidents for your human workers. Its safety focus means that it can work alongside your human workers without creating additional risks.
Available in single-arm or dual-arm models, YuMi designs can also be combined to create a robot capable of tackling more complicated tasks. On a more complex assembly line, several YuMis could be used together. This can seriously cut down on time spent on a task, raising your productivity and efficiency. Of course, if your productivity needs drastic improvement, a robot like the YuMi can work 24 hours a day, 7 days a week.
Easy to set up, this robot has intuitive controls that make getting it ready a simple job. Even if you have no background or experience with robotics, the YuMi won't leave you flustered. Still, if you'd like to try things out before taking the plunge and getting a YuMi for your business, be sure to give robot hire a go. We will provide training and installation, and even extremely short-term hire periods are available. This means that you can experiment and see if the YuMi ABB Robot fits your needs, without making any major decisions or commitments.
Click to Learn About Robot/Cobot Hire in the UK.